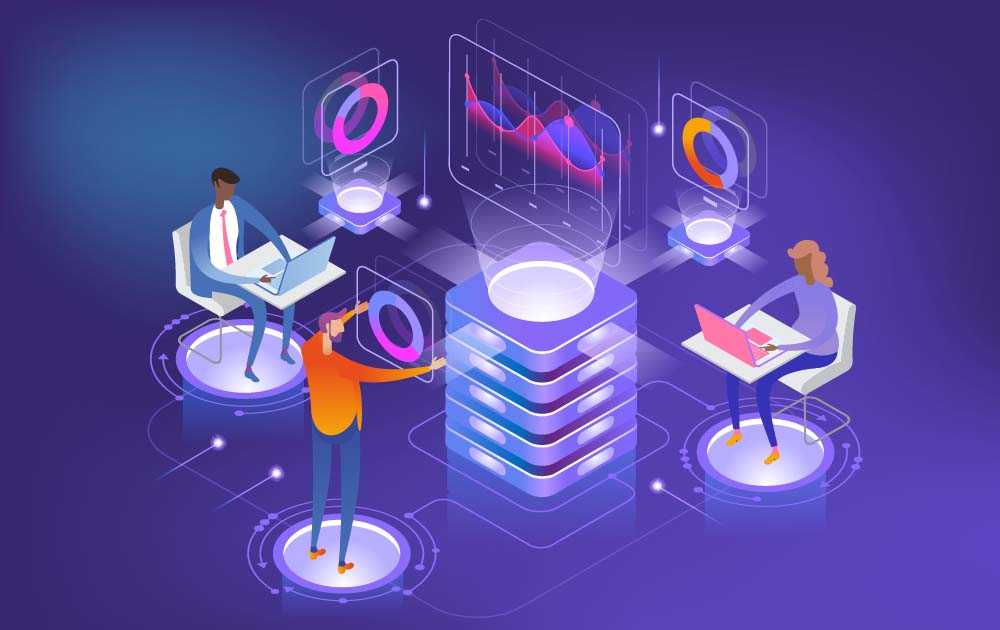 As a CX professional, one way you can improve your program is by making certain you can access, integrate, analyze and use all your data to make better informed decisions about how you deliver experiences to customers and employees. Sounds easy, right? But with silos and tech platforms that don't connect, accessing and using all your data can be tougher than you'd expect.
What do we mean by data integration?
Most people think about data integration as more of an I.T. function, connecting data systems so they can interact with one another or creating a data lake containing information from multiple sources. In the context of experience management, it's an enablement tool with a specific focus, combining experiential data from various listening posts with the operational data that an organization needs to drive intelligent decisions and actions.
Different departments have different data, perspective, and needs. For example, a contact center manager will need different customer feedback and operational metrics than someone in account management or someone who's involved in the supply chain. But all of them have legitimate needs that can be uniquely met by the combination of experiential feedback and operation metrics, and the CX professional's job is to coordinate, strategize, and deliver those metrics in a timely and digestible manner.
What's the value of data integration?
Data integration is more than how an organization slices and dices information from an operational component: it's finding the contributing factors and details about an experience that allow for better decision making. Connecting operational data and transactional data to customer profiles allows for deeper understanding of experience opportunities by individual or segment.
Combining experience data and operational data allows you to be more strategic about:
Creating personas
Segmenting your audience
Analyzing your data
Personalizing your customers' experiences
Orchestrating specific journeys for customers
Listen to the expert!
Walker expert Ashley Hicks discusses why integrating your data is important on The CX Leader Podcast. Click play to listen:
The Data Endgame
Released: January 3, 2023
Examples
When it comes to data integration, the sky's the limit. With nearly infinite possibilities for collecting, combining, and analyzing data, data integration can seem overwhelming.
Here are several common uses for consideration.
How does the customer journey play into the concept of data integration? Within the context of a listening post, we need to understand the experience that we're looking to impact or improve and identify an opportunity. The customer journey will help dictate what some of those objectives may be.
Many CX programs are tasked with helping a marketing or sales team increase conversions – taking a customer from an early awareness or research stage to making a purchase. We first need to understand the various ways that customers navigate this journey: Where along that journey do we capture internal or operational data about the customers' behaviors? Where do we have or need experiential data to understand their intentions, effort, emotions, and success? Once we have identified, and, in some cases, created the listening posts to gather these data, then we need to work with the involved stakeholders to integrate those metrics into a tool or dashboard for analysis, decision management, and monitoring. But it all starts with a foundational understanding or awareness of the customer journey.
Account management is a common area where data integration provides value. One simple but powerful used case is around assigning account resources. Not all customers want the same type of resourcing or interactions, and not all account managers have the same skills and experience. By integrating three sets of metrics – the resources and interactions currently provided to customers, customer demographics/firmographics, and customer feedback about needs and current perceptions – you can provide your account management team with a couple of valuable tools. First, an understanding of the resources that yield the most customer success for different types of customers. This leads to providing the right level of resourcing for the customer to optimize customer success and your profitability. Second, you can provide training and process improvements to level the playing field and ensure all account reps are providing optimal services to customers.
Data integration can also help improve customer retention. Frequently, the first thought is to acquire and integrate lifetime value and financial metrics that are associated with retention: Most organizations are looking to have an upward tick in financial performance associated with retaining a customer. While integrating these financial metrics with experience data is valuable for making important ROI statements about your CX program, they often end up flagging risky customers when there is little time to save them. However, understanding the full customer journey that leads to that renewal risk, how each step of that journey either increases or decreases that risk, can allow a company to make changes that keep customers from becoming a risk at the renewal stage. By identifying those points of inflection, and then providing the right employees with critical integrated experience and operational metrics, you can provide more customers with the right experience to avoid the accumulation of risk.
When you start looking at a customer's relationship with an organization, you can start tying together differentiating factors within their relationship and their experience that help identify whether one type of experience or another drives some level of loyalty. The questions for the CX leader become:
What departments do we need to work with?
What data/metrics do we need, and where do those reside?
How do we provide an integrated view of those metrics to the right associates at the right time so they can make better decisions about serving customers.
How to get started
Data integration doesn't happen automatically; it must be designed.
When getting ready to start a new program or project, take the time early on to think about the end game. Think through your program objectives, and work backward to design how to get there. Questions to ask include:
What is the objective for our CX program?
What do we want to achieve in six months, a year, three years?
What is the goal of our survey project?
What are the pieces of the journey that we know have an impact on that goal?
What indicators of customer success/failure should we have along the way?
What types of data do we have about customers, and where is it stored?
Having that long-term vision from the beginning supports designing a data integration program that allows those objectives to be met.
Break down the silos! Go talk to the owners of the data, the people who are using the data, and get familiar with it, because you need a little bit of the contextual reference to be able to bring it in and use it accurately and smartly.
This communication with client-facing departments is critical. The stakeholders and those running the program must have an understanding and outline of the standard categorization and data they want to be looking at their customers in. If you can start leveraging that information at certain touch points along the way, you can start to identify the differences in the sentiment and what they relate to. You can start identifying characteristics and attributes associated with a specific segment of people. Once that happens, you're able to orchestrate different types of actions based on that segmentation.
One area of data integration that is easy to start is combining CX and EX results. If you have different locations where you can identify the employees and the customers who operate at that location and compare those to others, that's a rich data set and a rich way to integrate your data to try to find new insights.
Avoiding pitfalls
Integrating data brings a lot of advantages. But, of course, some pitfalls exist. Security, privacy, and governance controls on the systems and data NEED to be considered. Does everyone who can access your system have clearance to access the data and know how to protect it?
Sometimes help from your IT department is necessary for data integration – and you end up at the bottom of a long list of requests. In that case, working directly with the departments that serve clients can be your best bet.
The opposite problem can also happen! Organizations that are data rich can suddenly end up with a directory that is 100 data points deep per customer. That can get overwhelming. The point of data integration for CX leaders is to create a system of insight. Culling it down to what's important, what's relevant to your objectives can keep everyone focused. What are you trying to change, and what information would help to do that?
Documentation is a key component for the longevity of your program. As you create data connections and integrations, document them! If you're pulling five pieces of data into your contact list for utilization and analysis or segmentation, have a place of reference that says what each is, where it came from, when was it last updated – a data dictionary. That way you'll always have a record. Five years down the road, after your program has matured and morphed over time, you'll still know where that data is coming from.
Conclusion
Customer experience pros rely on data. Lots and lots and lots of data. And it's important that data can be accessed constructively so we can understand our customers' needs and make better business decisions. Thinking through your objectives and your journeys and being intentional about data integration can take your CX program to the next level.