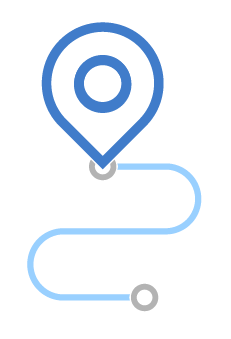 A journey map plots the path customers take in interacting with your company—from the earliest stages of product awareness and purchasing decisions through onboarding, usage, support—and finally renewal. The customer journey map is a valuable qualitative tool for understanding customer needs and expectations at each phase of the customer lifecycle. Holistic, visual and tangible, a journey map is an integral part of a comprehensive customer experience program.
When executed thoughtfully and correctly, the journey map is a powerful resource to support tactical and strategic decision-making in the areas that matter most to customers. With its end-to-end vantage point, journey mapping is highly effective in identifying "moments of truth" – the key "make or break" touchpoints in the journey that define customer perception and determine the likelihood customers will buy from you again or recommend your product to others.
Journey maps offer a variety of potential benefits for B2B companies. Leveraging intelligence gained from journey mapping creates opportunities to:
Make improvements in the customer experience
Gaps or breakdowns in service are common in complex business environments. Handoffs from one department to another can be particularly troublesome for many B2B companies. By charting the entire customer experience, journey mapping helps businesses pinpoint where gaps in service exist so that customer experience efforts and resources can be deployed and allocated to provide optimal value.
Strengthen customer focus by creating empathy
Numbers-laden survey data reports can't paint a clear, relatable picture of day-to-day customer experiences. The journey mapping process brings internal teams together in a highly collaborative exercise to replicate and role-play the customer experience. This helps uncover customer pain points, illuminating the experience in a meaningful way that naturally builds customer empathy among employees and strengthens customer focus.
Accelerate innovation
Journey maps contribute to keen awareness and understanding of the current state of your organization's customer experience. This understanding, which includes insights on key moments of truth, informs innovation, enabling companies to design and deliver experiences that "wow" and impress customers at the touchpoints they value most.
What Is Customer Journey Mapping?
Customer journey mapping is a process that involves creating a map of what your customers experience when working with you. The process of creating the map is important: Findings from the journey mapping process become the foundation for creating an ideal customer experience.
Preparation and research are essential to creating a journey map that will act as a useful tool for your organization. Likewise, the journey map is not the end product; it is a roadmap and tool for future planning. This is why Walker typically deploys a five-step process:
Discovery
Gathering information internal and external to the company
Executive priorities
Exploratory in-depth interviews with stakeholders and customers
Observational and ethnographic research
Journey
Choosing a customer persona or segment to examine
Mapping
Mapping the customer journey during a collaborative workshop (either in person or virtually) and creating the map
Current state: What are the steps clients take, and how do they interact with your company in each phase?
Expectations: What do clients need from your company, and what do they want to happen during each phase?
Emotions: How are clients thinking and feeling as they interact with your company during each phase?
Future state: What should your company be doing during each phase to meet clients' needs and wants?
Creating the map helps you with:
Outlining key moments of truth
Finding key strengths
Determining areas for improvement
Innovate and roadmap
Using insights from the map to develop potential innovations or new experiences
Identify quick wins
Find opportunities for a differentiated experience
Implement and institutionalize
Socializing the map and plan within the company and assigning roles to ensure that the new experiences stick
Virtual Workshops
While journey mapping is commonly conducted as an in-person workshop, the right online tools and skilled facilitation can make virtual options highly effective. This is particularly useful for decentralized organizations where aligning travel and schedules can delay progress.
Differences with virtual journey mapping include:
Rather than meeting in person, Walker uses visual and audio online collaboration tools to facilitate the sessions.
Sessions are spread out over several days rather than completed in one full day.
Instead of everything being conducted with the entire group, work will be completed in small groups and with the whole group.
Whether conducted in person or through virtual tools, the result is the same: Through collaborative efforts, you gain a clearer picture of the steps your customers go through and what matters most to them.
Why Is Customer Journey Mapping Important?
Staying aligned with executive needs and speaking their language is important for CX professionals. A great tool that garners attention from executives is journey mapping. Journey mapping is not new, and it has enjoyed quite a lot of attention for several years – and its value has stood the test of time. Companies that have invested in this tool have been able to bring CX to life in a way that traditional surveys have not.
Executives like journey maps because journey maps align with their organizational needs:
Journey maps deliver concrete actions. A common challenge we hear about at Walker is that it is difficult to drive change by using traditional surveys. And, if you cannot drive change, how can you demonstrate a business outcome to your executive team?
On the other hand, journey maps illuminate customer experience in a way that makes it clear for organizations to see what needs to be fixed. When we conduct journey mapping working sessions, participants frequently walk out of the session with a clear idea of what needs to be fixed to improve the customer experience. Executives appreciate the tangible actions derived through the process, and journey maps put CX leaders in a great position to quantify the impact of customer experience improvements.
Journey maps help drive innovation. Want to hear about a great way to put a CX journey map to use? Use current customer needs to work with employees and customers to co-create, building an ideal future experience. Companies we work with have found value in using their journey maps to facilitate focus groups and ideation sessions, all with an eye to the future. This can't be done, however, until you have a good grasp on understanding current needs.
Journey maps engage employees. Assembling a journey map is a highly collaborative process and requires employees to come together and put themselves in the customer's shoes. What a great way to build empathy for the customer experience!
Companies we work with will often say things like,
"I can't believe how much fun it is working together and talking about CX."
"I can't believe how much benefit we got from working cross-functionally."
"I had no idea how my colleagues in other departments work with customers."
The map is also a visual representation of the customer's journey, which helps the idea click for some employees, leading to a shared vision of what the future experience could look like.
How Can I Optimize My Customer Journey Map?
Journey mapping can engage customers and employees and lead to innovation and long-term improvement. But only if it's done well!
Getting sidetracked or focusing on the wrong things can derail your efforts. Here are ways to avoid pitfalls:
Avoid process mapping
To create a map that more accurately reflects the customer's journey, mappers should step outside of their usual roles. Rather than focusing on the processes involved in their daily job, they need to think like customers. A strong facilitator who can ask the right questions is essential to keeping the workshop from detouring into process mapping.
What's the difference between a journey map and a process map?
For many, journey mapping is a new process and can easily be confused with process mapping, a common method for documenting a process within a department. Both have important roles for companies; however, the two have critical differences.
PROCESS MAPPING
JOURNEY MAPPING
Internally focused: Process maps are focused on how the company implements steps and procedures to achieve operational efficiency.
Documentation process: Process maps are meant to lay out clear procedures that work best for the company.
Employee value: Process maps help employees understand how to carry out a process in a consistent manner
Customer focused: Journey maps are focused externally to deliver optimal experiences for customers.
Discovery process: Journey maps evaluate the touchpoints of customers to discover ways to improve the experience.
Customer value: Journey maps benefit the customer as they result in new and better experiences when working with the company.
Include the customer perspective
Mapping the customer journey is not complete—or valuable—without the customer. Journey maps are indeed the product of internal, cross-functional teams joining together to think and act like customers. Still, companies too often stop short of validating their journey map with actual customer input.
Depending on the situation and company, gathering insights can vary widely from focus groups to individual interviews, but the overall goal should be to find out what's important to customers and use the feedback to inform the journey mapping exercise.
Here are several options for gathering customer input that can be effective depending on needs and the situation:
Guided in-depth interviews with customers conducted by a neutral party
Customer focus groups
Guided input from the Customer Advisory Board
Survey feedback from customers – especially from broad, open-ended questions
Key driver analysis – a statistical analysis that determines what matters most and drives customers' loyalty to the company
Monitoring customer calls (i.e. support calls), particularly if the mapping project is more narrowly focused in the areas of service/support
Voice of customer feedback gathered through front-line employees
Observation or ride-a-longs
To keep the journey map customer centric, customers must be consulted or involved in the process. Evidence from anecdotes (for example, from social media) or surveys can be helpful here – where have customers expressed frustration? Analyzing data helps too – at what part of the pre-buying stage do customers drop out? What areas post-purchase have the most complaints? Validating internal suppositions with customers along the way can keep the map from veering away from customers. Asking customers which parts of the journey were the best and worst helps bring moments of truth to light.
How can I activate my journey map?
In the end, journey maps only go the distance when they are used as springboards for customer-focused change. Far too often, we see companies invest time and resources into developing well-executed journey maps without clear thought or intention about what happens next. Failure to activate or use journey maps to guide strategic decision-making, motivate employees and improve the customer experience ensures the exercise falls short of its primary goals.
Companies can follow through with activating their journey map in several ways:
Strategic planning
Consider the journey map as a reliable resource in strategic planning and decision-making.
Use the map to determine how strategic decisions will impact customers at various stages of the journey.
Plot strategic initiatives on the journey map to evaluate alignment with moments of truth and identify potential service gaps.
Internal collaboration and engagement
Use the map as a training tool for new hires and reinforcement for existing employees.
Capitalize on the map's ability to support customer experience activities.
Use the map to increase customer-focused awareness and build empathy.
Process improvement
Leverage the map to find broken interactions that need fixing or refinement.
Look for opportunities to redesign and innovate experiences to meet customer needs.
Assemble functional teams to work on closing gaps identified as part of the journey mapping process.
Journey mapping is a change management activity. Once the journey map is complete, customer experience professionals must be prepared to lead the activation. This includes developing a plan, working with the organization to leverage it and executing customer experience improvements and initiatives based on the journey map. Creating the customer journey map is just the beginning.
Start a conversation with Walker Contact Us