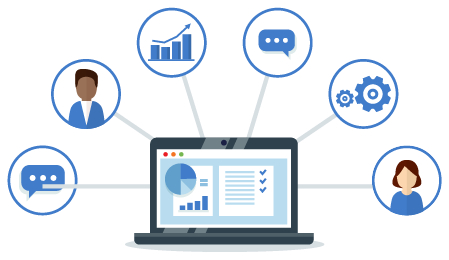 CEM, CXM, CRM—alphabet soup or letters that matter? When it comes to creating and retaining customer loyalty, these three-letter acronyms are important. Think of CEM, CXM, and CRM like dollar signs for businesses. When companies invest in their success, they help drive revenue. In their absence, consumers take business elsewhere, regardless of the differences, each center on the C: CUSTOMER. Understanding how the practice of customer experience management (CEM) helps companies compete beyond price and product is key to business success. For organizations looking to thrive—not just survive—in today's diversified global market, customer experience management may be just the brand strategy they need.
What Is Customer Experience Management?
Customer experience management, often called CEM or CXM, represents the collection of processes used to manage every touch point between a customer and a company. Experience management begins before the purchase of a product or service and continues after the completed sale. The goal of CEM/CXM is building consumer retention and loyalty.
Customer relationship management (CRM) is geared more toward sales rather than to the comprehensive experience management approach that spans an entire company. An easy way to think of the difference is that management CEM/CXM cares about how the company appears to the customer. CRM is part of customer experience management but cares more about how the customer appears to the company.
A customer experience management strategy (CEM/CXM) includes four key elements:
Understanding the customer
Getting to know the customer goes beyond the products or services they need. Customer experience management also looks at the customer's attitudes, behaviors, and beliefs. CEM searches for insights into the "why" behind the customer's desires, what they think, and how they interact with the brand.
Mapping the customer's journey
The process of customer journey mapping includes discovering and understanding every interaction the customer has with the brand or organization. Touch points might include marketing emails, phone calls, online chats, social media, shipment tracking, word-of-mouth recommendations, a knowledge article, surveys, and invoicing. By documenting all customer interactions, companies can analyze how each touch point impacts customer loyalty and satisfaction.
Building the customer relationship
Now that an organization understands its customers and their journey, the business can begin creating and enhancing interactions that foster a positive brand experience. At a basic level, consumers want to interact with brands that fulfill a physical or emotional need. However, brands that focus on developing long-term loyalty understand how to meet customer expectations from the first piece of marketing all the way through to post-purchase satisfaction. These business customers benefit beyond having a need met. They also receive a value-added experience.
Capturing and utilizing customer feedback
Customer experience requires gathering data on positive and negative brand interactions and implementing management solutions. Consumer data delivers valuable insights for continuous improvement. By integrating customer feedback into the CEM/CXM process, an organization can deepen the customer relationship and build a positive perception of the brand by refining customer interactions over time.
Why Is Customer Experience Management Important?
Customer experience management is more than just one of those "feel good" business solutions. Brands that manage customer experience well benefit from boosted sales driven through product or service differentiation. They develop loyal brand advocates who serve as an extension of the company's marketing function. Plus, higher consumer retention means spending up to 25 times less on new customer acquisition costs.
Consider additional data on the importance of experience management:
Research shows that 80% of customers feel the experience a company offers is as important as their products and services (Salesforce).
Approximately 82% of consumers stopped doing business with a company because of a bad customer experience (Zendesk).
Businesses that are leaders in customer experience enjoy consumers seven times more likely to purchase from the company, eight times more likely to try the company's additional products and services, and 15 times more likely to speak favorably about the business to their network (Qualtrics).
On that front, 90% of U.S. consumers tell their networks about their service experiences—both positive and negative (American Express).
Customer experience is not just for big companies. Nearly 85% of small businesses indicate the primary way they earn customers is by word of mouth (Small Business Trends).
Why Does Customer Experience Management Matter?
Customer experience serves as an important brand differentiator that creates a win-win opportunity for both the consumer and business. Customers win by having their needs met through personalized experiences geared toward maximum consumer satisfaction. The customer also benefits from an enriched, rewarding connection with the brand. Companies succeed by generating more qualified leads, converting those prospects into sales, and then retaining the customer by developing lasting brand loyalty.
Customer experience management offers a strategic focus to help companies:
Achieve a Deeper Understanding of Customers
Customer experience is not one size fits all. Earning and retaining customers requires offering relevant, personalized experiences. Segmenting audiences by recognizing unique customer needs, behaviors, and preferences makes this possible. The more targeted a product or service becomes, the more likely it results in a sale.
Drive Loyalty and Retention
Simply put, customers who feel seen, understood, and valued stick around. Data shows those customers buy more, churn less, and share their positive experiences with other potential leads. By managing the customer journey well, organizations can deliver smarter service more effectively and efficiently.
Maintain a Competitive Edge
Good customer experience equals good business. A customer experience focus improves a company's overall operational performance. The practice is effective in driving down bottom-line costs. A strong correlation exists between customer satisfaction improvements and increases in sales. In fact, data shows companies delivering a better customer experience generate up to 8% more revenue than their peers. More revenue with less costs—now that's a sound investment.
Experience management helps companies make better decisions. Customer experience data provides unique insight into consumer behaviors, thoughts, and emotions. The information enhances buying decision visibility. Once companies understand more about how their customers operate, they can tailor the experience to drive up consumer engagement.
Three Steps to Getting Customer Experience Management Right
Think of customer experience as a journey, not a destination. The process requires constant refinement because customers continuously evolve. The first step toward delivering a great customer experience begins with a focus on three key actions:
Create and Maintain Complete Customer Profiles
Start by getting to know your customers. Far too often, organizations assume they know their customer. Companies managing customer experience actually do. Use the data to your advantage to create customer profiles or personas. At a basic level, conduct an analysis of demographic and transactional customer data. Next, gather additional helpful insights by capturing customer sentiment through social media. Analyze call center conversations. Review customer satisfaction survey feedback. Look at website clicks. Find location patterns. Examine product quality statistics. The possibilities truly are endless. Customer insights generate a wealth of actionable information about every experience across the customer's journey.
The more a company knows its customers, the better it becomes at:
Developing relevant product and service offerings
Implementing software solutions and digital tools effective for improving customer experiences
Understanding customer expectations in real time and delivering value accordingly
Refining the customer experience to improve retention and loyalty
Making better business decisions
Make It Personal
Personalization is powerful. In fact, more than 90% of consumers across various research studies indicate they want personalized experiences that impact their buying decisions. The human brain processes more than 34 GB of data each day. Brands that personalize every interaction have a better chance of standing out. Use customer experience data to deliver relevant product or service offerings, make helpful consumer recommendations, and provide valuable advice. The more the customer feels a touch point is "just for me," the more likely he or she is to positively engage.
Right Message, Right Place, Right Time—Every Time
Timing is everything. For example, how many times has a car dealership contacted you about a car you haven't owned for years? A video sent to a customer on how to wax the skis they purchased is great. That video is not as helpful in August during the offseason. Chewy.com famously sends customers a bouquet of flowers when they learn of a pet's death while helping cancel autoship subscriptions. Sending the right message at the right time is important. To understand where a consumer is within the customer life cycle, ask questions like:
What do they need from the brand?
What do they know about the brand?
Are they actively evaluating options?
Are they ready to make a purchase?
What will they need post-purchase to stay loyal?
Discovering the answers to each question provides valuable insights for improving the customer experience. Integrate the answers into the sales and marketing process to deliver a timely message that resonates with the customer.
Make Every Experience Matter
At Walker, we believe everyone deserves an amazing experience. We are a Qualtrics-certified full-service Experience Management (XM) firm. Our team of experts provides technology implementation, end-to-end managed services, and expert strategic consulting so you can deliver best-in-class experiences to your customers.