The presence and power of the digital experience are undeniable. Consumers have come to expect the simplified experience of the one-click digital transaction.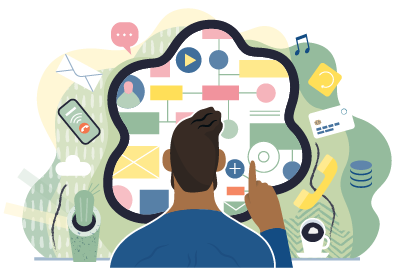 What's the difference between DX and DCX?
Digital Experience (DX) refers to a wide range of individual digital touchpoints or interactions. DX is commonly the domain of user experience (UX) professionals, who strive to optimize every digital interaction with customers.
Digital Customer Experience (DCX) refers to customers' overall experience interacting with all your digital channels to access data, request help, purchase items, check status, and much more. While DX is concentrated on individual interactions, DCX is focused on the collective experience of all digital touchpoints – the holistic journey your customers experience.
What does it mean for CX leaders? Now more than ever, customer experience leaders must monitor and assess the overall digital customer experience to ensure it meets the demands of their customers. What's more, they must work side by side with UX professionals to ensure the consistent quality of each digital interaction.
The Value of Digital CX
Digital CX helps you better understand the "why" behind customer behavior at the moments that matter to both your customers and your business and respond quickly to drive improvements.
At organizations with higher levels of CX maturity, CX professionals become key influencers in digital transformation. Using relevant customer insights, CX can help companies evaluate where digital experiences should be integrated in the customer journey to improve the experience and help meet company goals.
Not every experience should be handled digitally. Armed with customer insights, CX can work alongside digital and customer experience teams to find the human-digital, online-offline balance that leads to better, easier, and more seamless customer experiences.
Some customers value the speed and ease of digital ordering and only need an account manager for complex orders. Digital takes some of the pressure off front-line employees when the digital path is carefully thought out, plotted, and programmed.
Making Digital Customer Experiences Work
Now more than ever, customer loyalty depends on a company's ability to design emotionally engaging digital interactions. For companies to start improving their digital experiences, they must develop Digital CX capabilities. DCX helps companies better understand the "why" behind customer behavior at the moments that matter to customers and the business. This enables companies to respond quickly to drive improvements. As a Digital CX listening program is developed, CX professionals and teams play an important role by monitoring and validating digital implementation with customer listening.
Compare digital and human touchpoints.
Deploy CX listening around key digital touchpoints and their in-person counterpart touchpoints to compare and contrast the experiences. For example, measure the experiences customers are having with all support channels, not just the call center experience. This allows businesses to understand the circumstances in which each channel provides the best experience for customers.
Keep listening and monitoring.
Work with the digital team to continue listening and measuring after implementing a new or updated digital interaction to ensure it has a positive impact and meets customer expectations. At a minimum, companies should have an always-on, passive feedback mechanism on their website so customers can provide comments. The ideal scenario, however, is to actively seek targeted input from customers on new features or changes to the digital touchpoint.
Assess and assign experiences.
In consultation with the company's digital team, evaluate and determine the experiences that can be digitized and made easier and which ones are more complex and require human interaction and expertise. Relationship and baseline surveys can help with this. Journey mapping can uncover pain points; then determine whether they can be effectively digitized to benefit the customer.
To assess and assign the experiences that can be effectively moved to digital and those that should remain governed by human interaction, companies will need:
A map of the customer journey with an explicit digital path.
Insight from customers on the interactions and touchpoints they find difficult or time consuming.
Deep-dive insights and a thorough understanding of the circumstances under which troublesome interactions can and should be moved to a digital channel. For example, complex or high-value support cases should go directly to escalation teams, while basic cases like billing requests could be handled digitally.
Foster ongoing collaboration with digital teams.
Designate a CX team member to work with the company's digital transformation team and ensure a representative from the digital team sits on the CX team. The value the CX team brings is the voice of the customer— integrating customer feedback and insights into the digital transformation in a broad, systematic, and ongoing fashion. When CX and digital transformation teams collaborate, there's a better chance the customer perspective will influence digital design and drive ongoing iterations to make the company's digital experience the best it can be.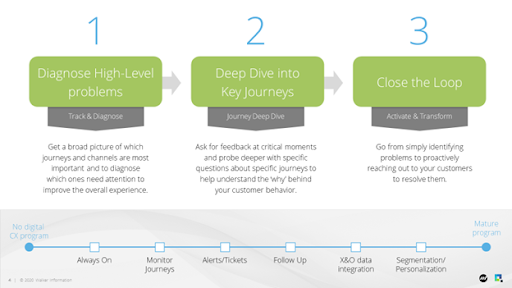 7 primary use cases of digital customer experience technology
Overall Site Experience
This is a gauge of the customer's overall experience across your website. Customers visit your site for a reason – and the first question of an overall site experience survey usually asks, "What was the primary purpose of your visit to walkerinfo.com today?"
Common primary purposes customers visit a website to complete are:
Make a purchase
Make a payment
Get support
Research or browse
Manage their account
Each of these purposes has a separate journey associated with it – customers are looking for different information/options, and they will see different parts of the site based on their reason for visiting.
The key indicators of a good overall site experience are:
Task completion. No matter which journey customers take, they went to your site to get something done. Ask whether your customers were able to complete their task successfully.
Ease of use. How difficult of a time did the customer have navigating the site and finding information?
Satisfaction. How satisfied is the customer with the site overall?
Additional questions may be asked to drill down into what influenced the score customers gave their digital experience on your site and their likelihood to return.
The overall site experience survey uses a combination of the responsive dialog and pop-under creatives.
Persistent Feedback
Persistent feedback is "always-on" – the option to provide feedback on the digital customer experience is available any time the customer would like to use it. This option is meant for customers to self-report problems they see on the website. It's a way to determine which pages or journeys are working well and which need attention. As such, the option to provide this feedback should be built into every page of your site.
The first question on the persistent feedback survey should ask why the customer wants to provide feedback. The survey will branch based on whether the customer wants to give website feedback or report an issue. If the company has a customer service department, contacting it may be an option. The "other" option should also be offered so customers can report something else.
Customers usually use the persistent feedback button when they have a problem with a journey point. For example, a coupon code may not be working, or their shopping cart may not be updating, a product may not be available, or the customer may have trouble checking out. A simplified version of the overall site experience survey may follow.
The persistent feedback option frequently looks like a tab on the side of the site or a text link in the site's footer. On a mobile site, it may be a moving tab or in the site's main menu.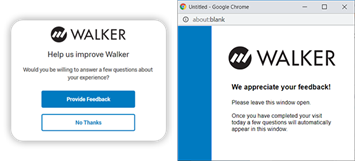 Embedded Feedback
Embedded feedback is a quick and simple way of gauging whether a piece of content was helpful or not.
It's frequently displayed as a two-point rating scale of yes/no or thumbs-up/thumbs-down. Sometimes a 5-point scale of stars or emojis is used. An open-ended question can help to clarify the reason behind negative digital experiences.
This survey is embedded in the text next to the content it's referencing.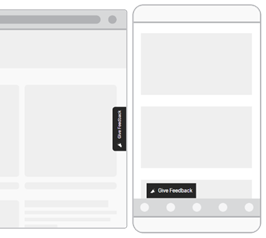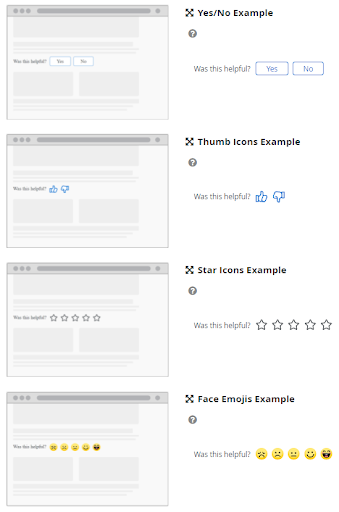 Site Abandonment
This form of digital customer experience survey tries to measure why customers leave your website. Gauging whether a customer is abandoning a site can be difficult. The survey is frequently triggered when the customer's cursor goes up to the top of the browser window; however, the customer may simply be using a back arrow or opening a new tab.
The main questions on a site abandonment survey are whether customers could complete their primary purpose for visiting the site and why they're leaving.
In general, abandonment popups are overused on websites, so avoid annoying your customers by overusing this approach. When it is used, it's frequently an information bar (shown) or a pop-up.

Cart Abandonment
When customers have added items to their cart and appear to be leaving the website without checking out, the cart abandonment survey pops up. It may also be used when a customer goes to fill out a form and abandons it.
Since judging when customers are leaving the site is difficult, this survey gives customers the option to give feedback immediately or later; if they choose the "later' option, a pop-under appears for completion after the customer has concluded business on your website.
Another method for determining form abandonment is using the customers' history – if someone visited the form page but didn't make it to the confirmation page, the survey should be triggered.
Frequent reasons given for abandoning carts/forms are that it was taking too long or the customer doesn't want to enter sensitive information on the site. The survey varies quite a bit depending on the purpose of your website and your customers' likely journeys.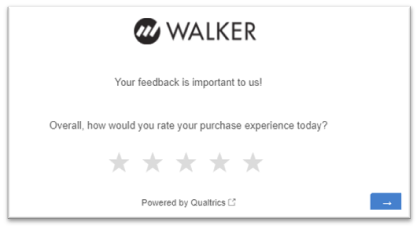 Post Transaction
Once customers have completed their transactions on your site, find out how their digital customer experience went with a post-transaction survey.
This survey usually appears on (or with) confirmation pages once clients have completed a purchase or enrollment. It may be a popup or embedded on the page. A popup gets more attention and typically a higher number of responses, but it is more disruptive to the customer's experience. An embedded survey is less intrusive to the customer but is likely to get fewer responses because it may be confused to be part of the page's regular content.
Mobile App
Digital customer experience feedback within a mobile app is slightly different than it is for websites. Customers using the app may be more sensitive to interruptions in their experience, so feedback requests should be limited. Current app intercept options include mobile app prompt, notification, and embedded feedback.
Mobile feedback is less customizable than website feedback, and app developers have to be involved in programming the prompt to take the survey.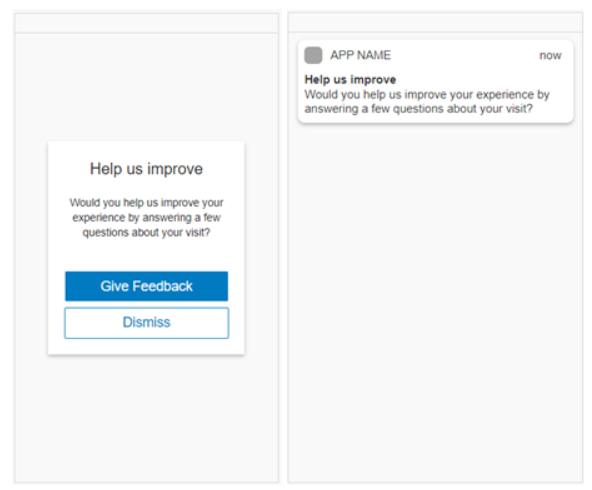 Tips for collecting feedback on the digital customer experience:
Consider adding your logo to your popups to reinforce to your customers that they are legitimate feedback requests and not ads that may take them away from your digital property.
Don't interrupt a transactional process with a popup survey. You can have an always-on feedback button or link available on transactional pages so if a customer encounters an issue in the process, they can self-report the problem that they encountered.
Keep the customers' journey in mind: how they go through the website, how they interact during the journeys for various purposes, and what feedback would be beneficial to help you improve those journey experiences. Conducting a journey mapping workshop is a great way to discover customer pain points for each digital journey.
Find your sample "sweet spot" – where you're not over surveying but can get the right amount of feedback that you need (based on your response rates). Walker's Digital Sample Size Calculator can help you estimate how to adjust your sample rate: https://walkerinfo.com/demo/DX/dx-sample-size.php
Avoid putting multiple popups on the same page or through the customer's journey. Work with the other departments in your company that have a say in how the website works, and encourage everyone to keep your customers' experience in mind.
Be aware of accessibility – avoid situations where customers' limitations keep them from providing feedback.
Shorter surveys are better. Just get the information you NEED, not everything you want. Try to supplement the response with operational (O-data) analytic and customer data that is available on your digital or sales platforms that you can pass along with the response to avoid asking questions that you may already know the answers to.
Consider technical concerns such as security and performance and test your DCX surveys extensively.
Contact Walker to help you with getting set up properly to get the feedback you need to improve your customers' digital customer experience.
Walker can help you navigate the balance and design a digital program that helps you understand what matters to your customers and why they behave the way they do – and be agile enough to improve their experience quickly.
See what Walker can do for you here: walkerinfo.com/demo/