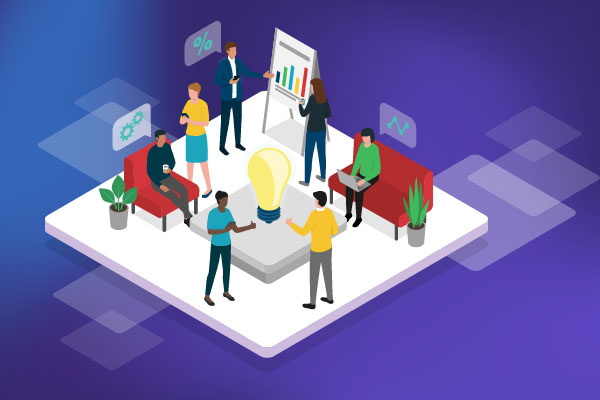 It may be a broad generalization, but it's probably fair to say that most employees want to do a good job. This is particularly true if they are hired to regularly interact with customers. Typically someone in such a role likes to interact with people and wants to help. They enjoy solving customer problems and they want to help them succeed. And yet, if you are a customer experience (CX) leader, the leader of a contact center, or anyone who has a hand in customer relationships you can likely cite a number of obstacles that make it difficult for frontline employees to feel fully enabled to do their best work. And of course, if they don't feel good about their work, you can be sure the customers they serve are not receiving an ideal experience.
That's why we chose this topic as one of the themes driving CX evolution. We know that happy, engaged employees will be more attentive to customer needs, care more about how customers feel, and will go above and beyond to deliver exceptional customer experiences.  And CX leaders realize that if they want customers to have a great experience it starts with their employees.  
What do we mean by employee enablement?
Employee enablement is about providing the training, the resources, and the systems necessary for employees to deliver ideal customer experiences. Employees have limited visibility to really understanding how customers feel about their experience, so they need to be equipped with the information and support to understand each customer's journey, interactions, and attitudes to be able to effectively meet and exceed expectations.
While this topic could be applied to all employees in every company, this article will focus on frontline employees – the people who interact with customers every single day. And the best application for this is the corporate frontline – contact center professionals, account managers, customer success managers, and others who manage ongoing relationships and are the first to be involved when customers have a question or problem.
Listen to the expert!
Walker expert Georgetta Parisi discusses the importance of enabling your employees on The CX Leader Podcast. Click play to listen:
Enable Your Employees
Released: December 6, 2022
Overcoming key obstacles to employee enablement
The list of obstacles on this the topic could be exhaustive. To make this a little more manageable, we'll narrow the obstacles to three broad categories – training, resources, and systems. These three areas represent the most challenging obstacles but also present the greatest opportunities for companies to excel and differentiate themselves from competitors by delivering a significantly better experience.
Training
When new employees are hired, their manager wants to get them onboarded quickly so they can be productive as fast as possible. Naturally, this makes sense. Companies want their employees at full speed – closing deals, taking calls, addressing issues. And yet, it becomes counterproductive if they are not adequately informed about the needs of their customers.
Of course, before training even begins companies must find the right candidates. That alone is a significant challenge. In today's environment it's difficult to find the right people to fill critical customer-facing roles. Once they are discovered, it's tempting to get them up and running as fast as possible with a presumption that they'll figure things out along the way. And they likely will. But how many customer experiences have been sacrificed along the way? What's more, how many employees become distraught in their role and decide there just may be better options that they should consider?
Companies also must be mindful of how they measure the performance of their customer-facing employees. Most companies are highly focused on internal metrics such as closed deals, renewals, upsell, and the time it takes to handle a customer call. While all are important metrics to track, surprisingly few are focused on measuring how customers feel. For example, a recent study showed that customer satisfaction ranked fifth on a list of the most commonly measured performance metrics in contact centers. It was outranked by these internally-focused metrics: average handling time, adherence to process, accuracy/error rate, and volume of calls and emails. What's more, metrics on issue resolution and hold time (both important topics to customers) were 10th and 12th on the list. Again, all metrics are important, but too often the metrics that matter the most to customers are easily overlooked.
Companies that truly see their people as their competitive advantage will provide the investment of time and resources for training and carefully consider the metrics they use to evaluate the performance of their frontline employees.
Resources
Many organizations do not dedicate the necessary resources to meet customer expectations. Simply reach out to a contact center to experience this – being stuck on hold and slow chat responses are all too common. Customer expect (or should expect) that they can easily get help. Instead it can be a painful, inefficient experience. It goes beyond the contact center. Account managers and customer success managers are often spread too thin but are still expected to be one of the key ingredients to delivering an exceptional customer experiences.
Many companies have addressed this by opening up a variety of channels for communication with a company's front line. Online options, chatbots, online communities, and social media are all being leveraged to provide more options for customers. Top organizations recognize that customers seek a balance of human and digital options and track their interactions to determine their preferences and deliver personalized experiences.
What's more, the most innovative companies don't just look at frontline employees from the cost side of the financial equation. Instead, they have joined a growing trend of companies making more use of rich customer insights delivered through frontline employees to produce revenue, improve quality, and accelerate innovation. Closed-loop feedback programs help account managers and customer success managers salvage at-risk customers and reveal potential upsell opportunities. Sophisticated tools (discussed in the next section) can interpret call center transcripts and other unstructured data to uncover product quality issues and innovative new solutions.
Systems
While all of us have been customers in many different ways, few have been on the other side fielding calls, responding to requests, and addressing problems. This makes it difficult to understand the myriad of systems behind the scenes intended to help track customer information and help provide a seamless customer experience. Unfortunately, these systems are often the source of frustration for frontline employees and can cause the customer experience to feel disjointed.
Frontline employees often must deal with multiple applications to get the information they need. To make matters worse, these systems don't always talk to each other. For employees, it's frustrating. For customers, it takes longer than necessary to get the answers they need.
Ultimately, companies must strive to make it easy for their frontline employees to quickly locate information and efficiently respond. We owe it to them and to our customers. Fortunately, technology is quickly advancing to meet this need. Many companies are developing end-to-end systems that can not only manage large volumes of customer data but also help customer-facing employees deliver personalized experiences based on customer preference. This not only provides a better experience for customers, but also eases operational overhead and provides a more consistent experience for frontline workers.
Among those companies is our partner in developing this series of articles. Qualtrics' leading platform is a unified system for all customer data. It monitors customer journeys to identify experience gaps and guide employees on the right actions to take.
Effectively leveraging the right system enables employees to do more than simply respond to customer issues. It makes things easier – and that makes for more engaged employees who deliver great customer experiences.
Where should CX leaders get started in employee enablement?
CX leaders need to ensure that employees have the necessary training, resources, and systems to deliver ideal customer experiences. Here are a few ways to get started.
Listen to the frontline. Employees on the frontline know what's going on. They're connected to customers every day and have an excellent perspective on what's working and what's not. Having methods, whether formal or informal, for listening to the thoughts, opinions, and suggestions of frontline employees can go a long way to building an ongoing employee listening program that captures structured and unstructured feedback all aimed at delivering the best possible experience for customers.
Get involved in training. CX leaders need to carefully consider how employees are trained to serve customers. They should ensure enough time is spent to understand the perspective of customers and the best way they can deliver value.
Determine the right metrics. CX leaders should assess the metrics that are used to measure the performance of frontline employees. Specifically, they need to ensure that customer-focused metrics are prioritized and are aligned with internally-focused measures. They can take it to the next level by benchmarking against similar organizations to see how you stack up.
Make it easy. Finally, CX leaders should be an advocate for frontline employees to make is as easy as possible for them to access the right customer information and know the best steps to take to meet and exceed customer expectations.