Thick Data provides insight into people's emotions, motivations and ways of thinking. For our organizations to have a realistic view of the marketplace and our customers, CX leaders need to provide and advocate the use of Thick Data to supplement operational Big Data insights. This allows companies to challenge the status quo and reveal game-changing opportunities to please our customers.
Being an Analytical Leader
I recently contributed ideas on how CX leaders can become more analytical to Walker's newest report, Ten Traits of Effective CX Leaders, by creating a list of five skills leaders can develop to think more analytically:
Develop a culture of persuasion by seeking and inviting alternative perspectives within your team.
Be willing to "kill your darlings" – don't get blinded by what you want to be true.
Resist analysis paralysis and have a bias toward action.
Relentlessly seek context for operational data.
Focus analytic effort on improving small, daily decisions that impact customers.
In a previous post, I focused on items 1-3. This post focuses on item 4 and the concept of Thick Data.
What is thick data and why is it important?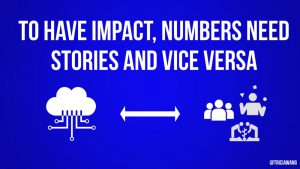 The term "Thick Data" entered my lexicon based on a TEDx talk and a wonderful Ethnography Matters article by Tricia Wang. Thick Data is data created using qualitative methods that provide insight into people's emotions, motivations and ways of thinking. It provides important context to facts and behaviors. It reveals the social context that connects data points. It tells the stories that make the facts and numbers come alive.¹
The ever-increasing focus on Big Data has led to renewed interest in Thick Data. As the business world has become dominated by data and quantification many realize that we are missing something. The more we focus on numbers and spreadsheets and graphs, the more disconnected we are from the reality of the marketplace and our customers. We need both Big Data and Thick Data to form a complete picture of modern business realities.
Integrated Data for the Win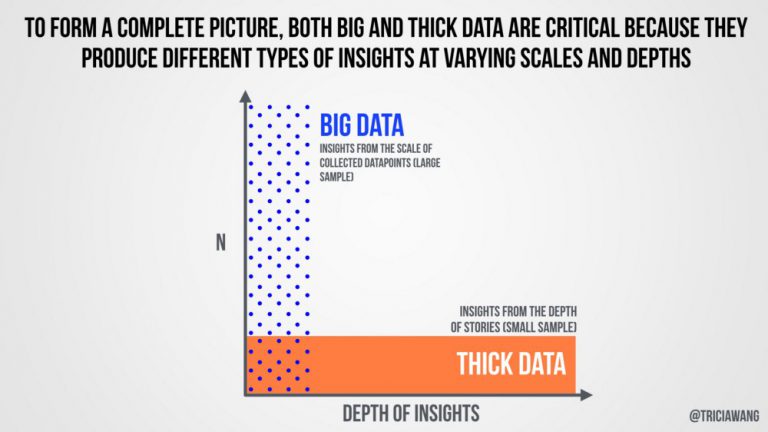 Insights from both Big Data and Thick Data are necessary for optimal business decision making, but they often produce results that appear at odds. That's because each type of data generates different types of insights. Big Data analytics usually focus on incremental improvement. The projects are rooted in the current reality of the system or process that produced the data and aim to optimize that system. Since the insights apply to a large scale, even small, incremental improvements can have big impacts.
Thick Data analytics, on the other hand, usually focus on where the system needs to change. Its intent is to challenge the status quo and reveal game-changing opportunities. However, these insights are smaller in scale and can't be easily implemented for quick impact.
While it makes sense for these two types of data to focus on different questions, there is a sweet spot where integration of Big Data and Thick Data is ideal – understanding the customer experience. Big Data on the interactions and behaviors of our customers provides the insights on what customers are doing, where systems can be optimized and even what customers might do next. Thick Data provides the understanding of why customers are behaving in certain ways and what they want us to do differently to meet their needs.
While watching highlights from the NFL Combine a few weeks ago I realized player scouting is a good analogy for integrating data into holistic insights. At the NFL Combine, there is a public fascination with quantifiable performances like 40-yard dash times, bench press repetitions and standing vertical jump height. Then there are the hundreds or thousands of data points for each player based on motion tracking and game film review. All of this is used by teams to develop objective assessments and rankings of each player, but this is only part of the data used to make decisions. Many personnel experts state that the most important part of the scouting process, the thing that separates the top candidates as they are making final draft decisions, is what they see and hear with their own senses. The Thick Data that comes from hours of interviews, background checks, feedback from coaches and scouts, and many other qualitative assessments.
CX Leads The Way
Much like NFL executives, our executives need both Big and Thick Data to make the best decisions for our customers, and the CX function needs to bring the context. Yes, CX needs strong quantitative skills and involvement in Big Data projects – after all, much of that data relates to customers' experiences and behaviors – but we are the primary source of Thick Data about customers. Most, if not all, data that CX organizations get from customers is Thick Data. While we often quantify survey data in the form of performance data or KPIs like NPS, we actually de-value this data if that's all we do with it.
CX is not just another operational function driven by quantifiable KPIs and performance metrics. We must connect the company KPIs and performance metrics to the reality of the marketplace and our customers. We must provide insights that challenge the status quo and reveal game-changing opportunities. As advocates for our customers, we need to be advocates of Thick Data.
Footnotes:
¹ I like to think of Thick Data as the story, but we must be careful to distinguish it from simple anecdotes. Thick Data is intentionally and scientifically gathered and analyzed qualitative data. The concept of Thick Data arises from the method of descriptive ethnography espoused by anthropologist Clifford Geertz in the 1970s. It is created using a scientifically validated methodology.