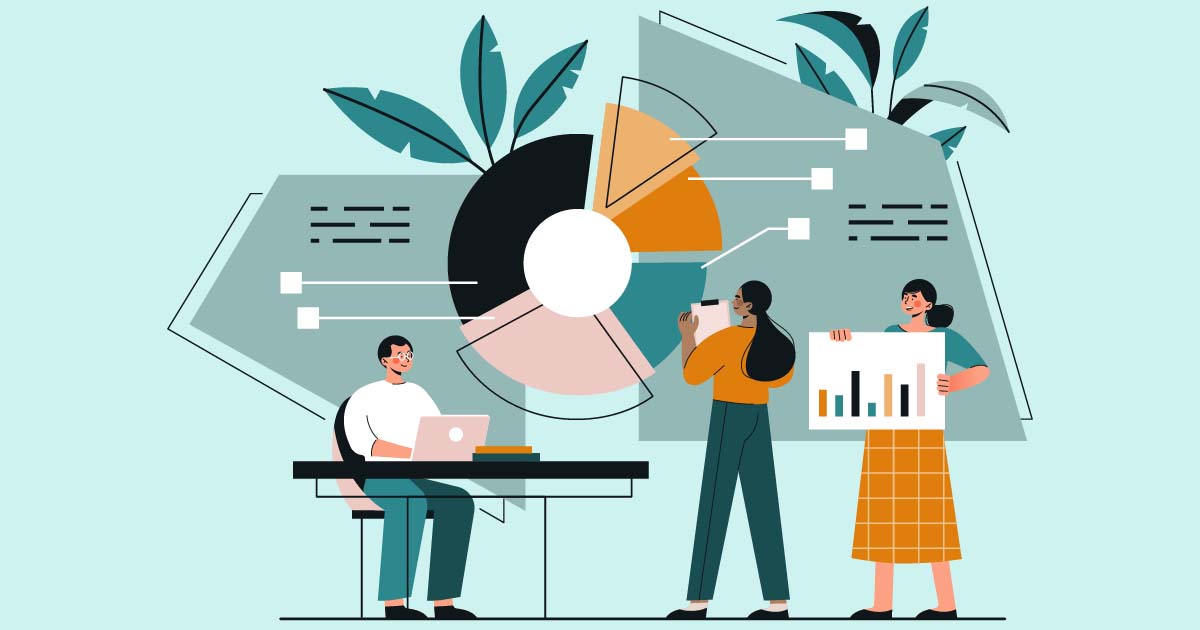 Hidden messages exist across your company. They are full of valuable customer information.
Ready to decrypt them? It's time to talk about text analytics.
What Is Text Analytics?
The world generates 2.5 quintillion bytes of data every day—that's 18 zeros!
Think of every social media post, blog, chat, call log, web search, forum discussion, and digital interaction. The list goes on.
Customers constantly provide valuable information about what they think, feel, and need. Unfortunately, these insights remain locked for most businesses. An army of people could not process even a fraction of this data to find actionable insights.
But text analytics can.
Text analytics uses computers to read and understand large volumes of human-generated content. The process translates the information into quantitative insights using statistical modeling and machine learning. The technology extracts, classifies, and sorts unstructured data to discover patterns, relationships, and customer sentiments.
With text analytics, every word holds the potential to improve the customer experience.
How Is Text Analytics Different from Text Mining?
Text mining uses linguistic rules to create qualitative insights from unstructured data. IBM reports that 80% of the world's data resides in an unstructured format. That makes text and data mining extremely valuable for organizing and analyzing information.
Text analytics transforms unstructured data into quantitative information using techniques like topic modeling, named entity recognition, and term frequency. The process supports predictive analytics and data visualization.
The technology also serves as a tool for sentiment analysis, which is important for understanding a person's attitudes or feelings. Sentiment analysis processes text, like a chat or social post, to determine if the reaction is positive, negative, or neutral for the brand.
Both text analytics and text mining use natural language processing. NLP helps machines "read" text by simulating humans' natural language understanding. The process uses speech tagging to convert sentences into categorized words in multiple languages. Today's natural language processing algorithms analyze unlimited amounts of complex text- or speech-based data with near perfect accuracy.
Text mining and text analytics make the perfect team. The first gives order to data while the second makes it more actionable.
Importance of Text Analytics in 2022
Organizations increasingly rely on partnerships with text analytics companies to improve business intelligence and decision-making. Consider this:
90% of the world's data was created in just the last two years
6 billion people will be on social media by 2027
Usage of text analytics—across industries and businesses—is projected to grow by 162% over the next five years
These statistics have huge implications for the volume of customer information available for companies to derive insights from now and in the future. Every client interaction, email, blog, product review, tweet, or call log offers rich text data to improve the customer's journey and meet business needs.
Text analysis is the key to unlocking this information.
Text Analytics on The CX Leader Podcast
Data is everywhere! And CX pros have structured ways to keep it all organized. But what about all the UNstructured data your customers provide? Ellen Loeshelle, director of product management, XM Discover at Qualtrics, discusses how customer experience professionals can take advantage of the tools available to extract the value from unstructured data.
Creating Structure out of Unstructured Data
Released: December 13, 2022
Why Do You Need Consulting Services with Text Analytics
The next great product innovation or customer solution may already be at your fingertips. A comment about a competitor. A tweet mentioning a great experience. A survey citing a problem. These all offer valuable information for an organization.
But as unstructured text, you'll likely never know.
Consulting services for text and data analytics offer specialized techniques and technology to take on customer feedback.
Gain a team of experts able to assess data sources, define the analytics model, and interpret the findings. The result is an automated process for translating vast amounts of textual data into limitless business opportunities.
Benefits of Hiring Text Analytics Consultants
The right consultant delivers broad perspective, deep expertise, and meaningful insights. Leveraging the full power of advanced analytics demands all three.
Implementing text analytics across a business requires strategic planning and thoughtful execution. Few companies have the dedicated in-house resources and extensive know-how to implement this modern technology efficiently and effectively.
Transform Text into Takeaways
Get ahead of market trends by extracting value from unstructured text
Support Customer Satisfaction
Understand customer wants, needs, and expectations in new ways
Do the Work Using Data-Driven Decisions
Improve the decision-making process by using real-time customer data for setting strategy
Make the Most of Marketing
Ditch mass-marketing messages and cultivate personalized communications based on unique customer data
Boost Business Objectives
Align customer experience improvements with business goals
Measure What Matters
Leverage quantitative data to visualize improvements and set meaningful business KPIs
Understand Your Data Better with Us
At Walker, we believe everyone deserves an amazing experience. We are a Qualtrics-certified full-service Experience Management (XM) firm. Our team of experts provides technology implementation, managed services, and expert strategy consulting.
Our text analytics services include end-to-end support from defining data needs to setting improvement strategies. Using the Qualtrics XM Discover Platform, we help clients make the most of a system powered by artificial intelligence, machine learning technologies, and data science. We help set up the models, collect the data, and extract meaningful insights to deliver truly amazing experiences.
Our Services
Data Audits
Identifying needed data and discovering where gaps exist
Topic Modeling
Defining subject areas and rules for statistical modeling, natural language processing, and sentiment analysis
Data Visualization
Transforming quantitative results into understandable graphic representations
Journey Mapping
Applying text analysis findings to customer journey touchpoints
Survey Design
Developing customer surveys that combine structured data and unstructured, open-ended responses
Action Planning
Translating data findings into actionable business insights
Your Solution to Business Growth Is with Text Analytics
Think text analytics is a "nice to have"? Think again. Companies already leveraging the technology are:
Discovering what delights and disappointments their customers
Detecting issues with their product or service that impact sales
Conducting market research to set a strategic direction, adjust product offerings, modify prices, and outperform the competition
Assessing brand reputation to understand customer perceptions and ways the marketing strategy should improve
Predicting customer behaviors capable of impacting business operations and financial goals
All this just by translating random words into deliberate action.
Contact Us to Learn More About How We Can Help You
With Walker by your side, transform text data into business intelligence that increases the customer IQ of any experience initiative.