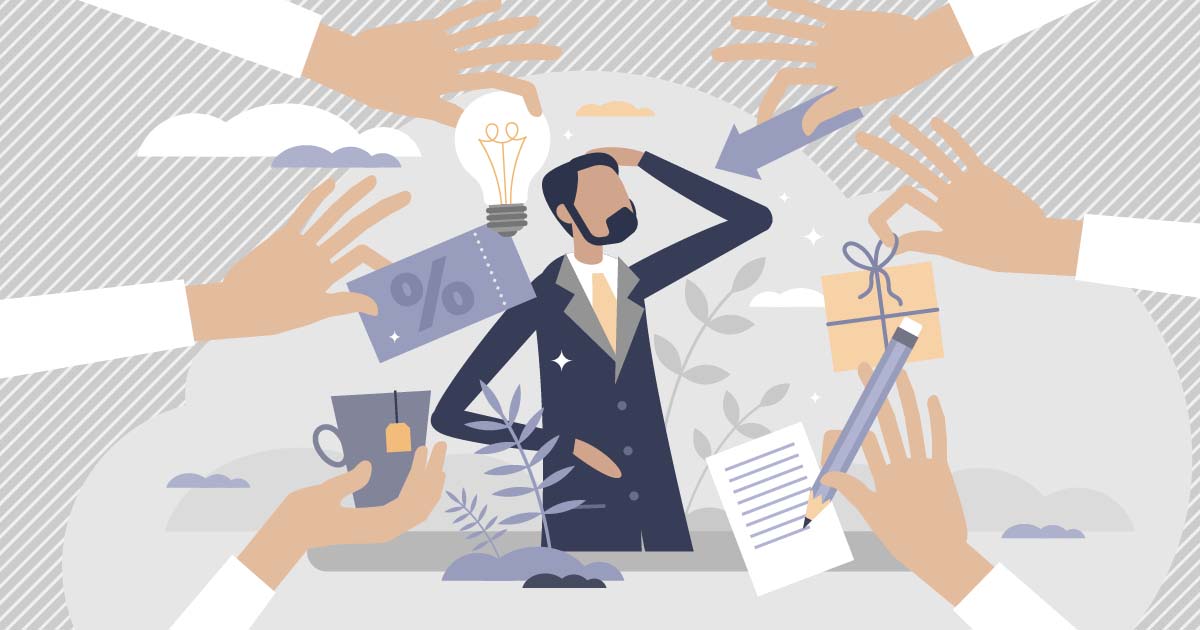 Culture is part of an organization's DNA. Every company has a culture driven by its mission, vision, and values. These principles guide how team members behave inside the workplace. A business's expectations, experiences, and operating philosophy all stem from its culture.
Most importantly, culture establishes what the company respects and prioritizes.
Customer experience now represents the primary brand differentiator over product and price. Thinking that customers sit at the center of every company culture is logical. Unfortunately, that is not the case.
Think of every organization or brand you've interacted with this week. How many less-than-great experiences can you add up? The Chief Marketing Officer Council reports that only 11% of marketers believe consumers see customer centricity as a hallmark of their companies.
In today's Experience Economy, establishing a customer-centric culture is key to survival. Customers have choices. Just one bad experience can send them packing. Building a culture around the customer experience lets everyone know—both inside and outside the organization—that the consumer comes first. When this happens consistently, customer loyalty goes up, share of wallet grows, and customer lifetime value increases.
Customer centricity drives corporate profitability.
In fact, Deloitte reports customer-centric organizations are 60% more profitable! While building a customer-centric culture takes work and time, the advantages are worth the effort.
What Is a Customer-Centric Culture?
A customer-centric culture operates from a set of ideas, beliefs, and values that place the customer at the core of the company. Every action, decision, investment, and process revolves around the customer's needs. Customer centricity offers a way of doing business that promotes a positive experience at every step of the customer journey.
Consider brands famous for their customer-centric strategies such as Nordstrom, Hilton, and Disney. Their customer orientation is synonymous with the brand. Those working inside the organization understand that the customer is king. Each company's customer-centric strategy represents a competitive advantage and impacts revenue.
McKinsey research shows that 70% of buying experiences are based on how the customer feels they are being treated. While customer happiness is important, study results from Forrester show that feeling valued, appreciated, and respected represent even bigger drivers of customer loyalty.
The only way to promote these feelings in every customer experience is by infusing their importance into all parts of an organization's culture and making customer satisfaction a top priority.
Why Is It Important?
Simply put, customer-centric companies perform better.
Businesses focused on the customer's experience post 1.5 times higher year-over-year growth in customer retention, repeat purchase rates, and customer lifetime value than other companies (Adobe).
Companies with a customer experience mindset drive up to 8% higher revenue than the rest of their industry (Bain & Company).
Customers are likely to spend 140% more after a positive experience than customers who report negative experiences (Deloitte).
88% of consumers are likely to recommend an organization following a "very good" customer experience (XM Institute).
65% of U.S. customers see positive customer experiences as more influential than great advertising (PWC).
Research shows customer centricity is important to employees as well. According to McKinsey, companies that excel at customer experience benefit from 1.5 times more engaged employees. When businesses invest in initiatives to improve the customer experience, employee engagement goes up by 20%. Gallup reports that companies with highly engaged employees outperform the competition by 147%.
Positive customer experiences make a big difference—for everyone.
Trends and Changes to a Customer-Centric Culture
"Customer centric" is more than a tagline. Executives often envision a circle with the customer at the center. What this picture actually represents is a customer experience built on top of a company-centric model.
A truly customer-centric organization works to understand its customers and then invests in processes, operations, technology, and people to transform its ability to meet consumer needs. That may mean ditching existing structures, ideas, and practices to better serve the customer. These organizations truly revolve around the consumer.
As more organizations work to become customer-centric companies, they are navigating a set of trends that is changing the way consumers think, feel, and shop.
Trend #1: Information Influences Customer Connections More
In a digital world, customers and businesses are closer than ever. A consumer can learn how a company treats people through online reviews, social media, chats, and websites—all without ever making a purchase. Conversely, businesses hold vast amounts of customer information capable of driving tailored experiences and building long-term relationships. Businesses harnessing the power of information and using it to build a customer-centric company culture have a leg up against the competition.
Trend #2: Customers Want to Buy from Brands They Can Trust
Customers increasingly want brands aligned with their values, which conduct business morally, and speak truthfully. Companies can build this sense of trust by:
Simplifying the customer journey and reducing mass-marketing messages
Communicating honestly about their products and services
Acting with the best interests of the customer and society in mind
Delivering on the company's values and operating ethically
Treating employees well
Trust matters to today's buyer. According to Salesforce's State of the Connected Customer, 66% of customers have stopped buying from a company whose values did not align with their own.
Trend #3: People Love Personalized Experiences
Buyers want a personal touch. Hyken reports that 75% of U.S. consumers are more likely to develop brand loyalty if they receive a personalized customer experience.
To achieve a high level of personalization, companies must know their customers and be able to anticipate their needs. Capturing customer data, transforming it into actionable insights, and operationalizing the information throughout the organization develops a customer-centric culture. Yet Harvard Business Review shows only 15% of companies have a 360-degree view of their customer and an organizational structure capable of executing on the data.
When offering tailored customer experiences is becoming table stakes, expect organizations to invest in technology and systems to rapidly improve in this area.
Trend #4: Loyalty Is Up for Grabs
Shopping around is easier than ever. In the past year, 71% of consumers switched brands. Rather than just looking for deals or product availability, today's consumers have a bigger list of shopping criteria. They gravitate toward companies offering great customer service, buying convenience, and a unique brand value proposition.
Conventional companies often focus solely on customer satisfaction (CSAT). A customer-centric organization sees CSAT scores as just one part of the process for retaining existing customers and building long-term loyalty. After all, customer retention is up to 25 times cheaper than acquiring a new client.
Trend #5: Customer Experience Is a Feeling
Customer experience is about the feelings created by touchpoints throughout the journey. Research shows 62% of customers state they have an emotional connection to a brand. Therefore, companies should focus as much on how they make customers feel, as how they meet their needs. Increasingly, customer experience builds a relationship between the consumer and a brand. The customers that "feel good" will reward organizations with more spending, more positive recommendations, and more loyalty.
How Can You Create a Customer-Centric Culture?
One decision or action does not create a customer-centric organization. Transforming a culture requires a strategic approach executed over time. While the shift may look different for everyone, a few hallmarks exist.
Align Your Core Values – Customer centricity starts with the company's philosophy. The kind of business an organization wants to be sets the tone for how it treats consumers. A focus on the customer—including employees—should be part of the company's mission, vision, and values. How the company thinks and operates must show it prioritizes positive customer outcomes.
Embrace Customer Feedback – Most companies collect customer feedback but far fewer operationalize that information for continuous improvement. Serving the customer well means knowing who they are and what they want at every step of the journey. Welcoming customer input, taking action, and closing the loop by letting the customer know what changed marks the major difference between a customer-centric business and a traditional one. According to Microsoft, 77% of consumers view brands more favorably if they seek out and apply customer feedback.
Involve Everyone – Customer experience is not the sole responsibility of one department or type of employee. Customer-centric cultures make customer experience part of everyone's job description. Teams throughout the organization collaborate and exchange ideas based on customer data, insights, and important customer-centric metrics to deliver the best experience possible.
Invest in Relationships – Stop concentrating on sales and start focusing on the customer relationship. Customers are human. Customer-centric organizations focus on building connections that lead to sales, rather than a sale creating the connection. Remember, consumers can, and will, shop around unless they feel a strong link to the brand.
Drive Decisions with Data – Customer-centricity isn't just a "feel good" way of doing business. These cultures develop a mindset for using data-driven customer insights to improve the customer experience. Decisions are based on facts rather than assumptions. Organizations go beyond the what of a score, to why that is the case and how to fix it. The data also drives customer investments and priorities.
Challenges to Cultivating a Customer-Centric Culture
Establishing a true customer orientation throughout an organization is demanding work. Three major challenges generally pop up.
Challenge 1: Getting Buy-In
Modifying a culture requires a seismic shift within a company. After all, the way a business and its workforce think, feel, and operates must change. Making the move requires buy-in from the top down. Leaders must weave customer-centric strategies into every part of the company, especially the decision-making process. Employees must clearly understand the "why" behind such an evolution.
Challenge 2: Shifting Away from the Product
Most businesses build themselves around selling a product or service. A customer-centric company focuses on selling solutions to customer needs. That often represents a tough mindset shift for sales agents, marketers, and even executives. Customer centricity avoids selling as many products to as many people as possible. Rather, the approach strives to sell the right product, to the right people, at the right time. Focusing on customer over product is critical for overcoming barriers to a more customer-centric model.
Challenge 3: Overcoming Silos
In average organizations, different departments own different customer data. This narrow view of the customer creates silos. Teams often "don't know what they don't know." They act on the data they have, even if it creates disjointed customer experiences or competing priorities. A customer-centric approach removes silos so everyone focuses on the customer in tandem. Centralizing data and making it actionable for all teams represents a key step in shifting to customer centricity.
Customer-Driven Marketing Strategies
Customer-centric marketing moves the focus away from the product or brand and toward the needs of the customer. Rather than thinking about how to promote a product's features, customer-driven marketing focuses on how those features solve a problem for the target audience.
For businesses not yet putting customers at the heart of their marketing plans, following are strategies for making the transition:
1. Identify the Target Market
Serving customers well is impossible if a company does not truly know who they are. The first step for customer-centric marketing is defining the audience and segmenting groups.
Conduct multi-sourced market research using web and social analytics, competitor analyses, surveys, and internal data to paint a true picture of the customer. Use the information to build buyer personas for each market segment. With a better idea of who the customer is, create marketing materials that focus on solving his/her challenges.
2. Know What Customers Want
According to Nielsen, consumers see more than 2,000 marketing messages every day. Earning a customer's attention has shifted from crafting the best message to having the best customer insights. That is the best way to break through the clutter.
Learn about target customers by asking them:
About all the challenges they face that require solutions
Who or what they are considering to solve those problems
What they need to make a decision
These answers help marketers develop content designed for every stage of the buyer's journey. Peter Drucker famously said, "The aim of marketing is to know the customer so well that the product or service sells itself."
3. Collect Customer Feedback
Once a company knows what customers want, it must assess how well it delivers on those needs. Customer feedback allows companies to refine their strategies and better meet consumer requirements. Customer calls, surveys, and focus groups create ideal opportunities to collect input. However, having the information means nothing unless a business invests in acting on it.
4. Reward Loyal Customers
A customer-centric culture relies on a strong connection between the company and its customer. Businesses must find ways to foster and reward this allegiance. This can come in many forms including points-based loyalty programs, discounts, exclusive offers, freemiums, and personalized suggestions.
5. Speak the Customer's Language
Company's must interact with their customers in a way that makes them feel valued. The right language improves customer engagement and repeat business. Customers feel appreciated when they are asked for feedback, thanked for their input, shown care and concern in marketing, respected for their time, and treated as people versus sales quotas.
Examples of Customer-Focused Businesses and Strategies
Becoming a customer-focused business takes practice and continuous adjustment to get it right. These companies succeeded at building their cultures around the customer. However, no one is resting on their laurels as they each continue refining their own business strategy.
Starbucks
The company discovered its customers were pressed for time, making efficiency and effectiveness a major buyer need. Yet the company did not want to compromise on its customized offerings. Starbucks solved this challenge by introducing an app. Now customers could enjoy the same level of customization as in store while being able to bypass the lines. The app also offered a loyalty program that rewarded repeat visits in store and through online ordering. By listening to the customer's needs, Starbucks enjoys the restaurant industry's most popular app with 48% of the coffeehouse's customers using the program regularly.
Patagonia
Patagonia has built a brand synonymous with environmental sustainability. Being transparent about its efforts in this area is a feature of the company's marketing. Patagonia offers information on its production process, as well as the mills and factories used. The company openly answers questions about product sourcing and where it must improve. Customers can access a repair guide to fix worn products rather than disposing of them. These efforts work to build trust with customers by placing sustainability over sales. As a result, Patagonia enjoys a highly loyal base of buyers.
Amazon
Convenience is key for Amazon customers. That is why the retail giant curates recommendations based on searches, purchase history, shopping cart items, and similar sales from other people. Even Alexa makes suggestions on things the customer might want to buy. This hyper-personalization offers a superior customer experience. Customer-centric recommendations now drive 35% of Amazon's total sales.
Learn More on How Walker Can Transform Your Business Model
Walker believes everyone deserves an amazing experience—and that philosophy starts from within. Customers are at the center of everything we do. In fact, our founder coined the famous market research phrase "Your opinion matters."
We've developed a unique approach to customer-centric thinking for many of the world's biggest brands. When organizations understand their customers more, they serve them better. As a Qualtrics-certified, full-service Experience Management (XM) firm, Walker helps companies make the connection between business objectives and customer needs.