"Customers first."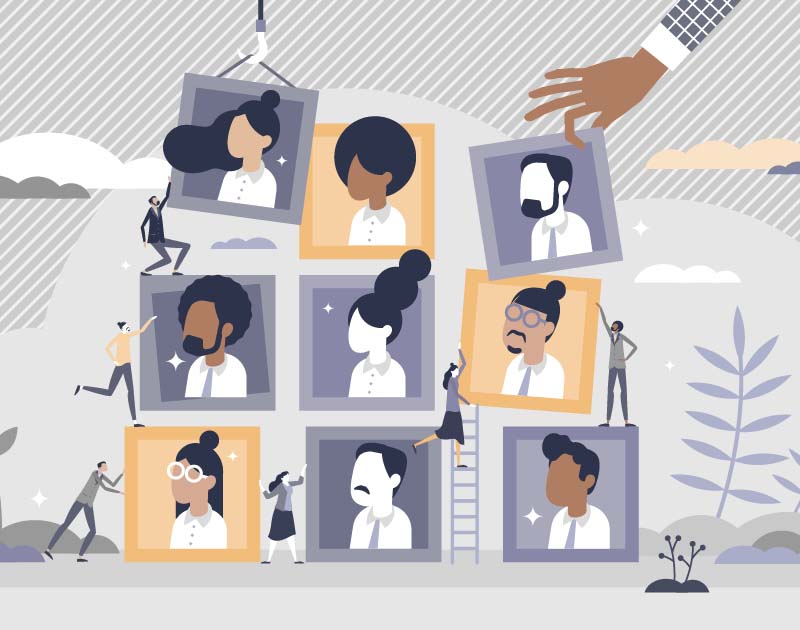 Walk through most organizations and you'll probably hear this phrase. In today's ultra-competitive business environment, companies not prioritizing the customer experience won't be around for long. The Qualtrics XM Institute estimates businesses stand to lose $4.7 trillion in consumer spending due to bad customer experiences.
Mention that number in the boardroom and people take notice.
Yet simply saying "customers first" does little to make the words a reality. How employees understand, embrace, and apply this mentality to their jobs moves companies from aspirational thinking to actual practice. That is why role-based enablement is a key part of managing the customer experience (CX).
What Is Role-Based Enablement?
Role-based enablement takes the what—caring about customers—and applies the how. This key competency of the XM Operating Framework ensures employees understand their impact on the customer experience and offers training on customer-centric behaviors. Enablement works to permanently transform how individuals approach and think about their role in the customer journey.
Applying the "customers first" phrase, role-based enablement:
Demonstrates to employees what the motto means as it relates to their daily job.
Equips staff with the skills to think and act with a customer-first mentality.
Reinforces desired CX practices through recognition and celebration.
Companies focused on role-based enablement educate employees on how they specifically make a difference for the customer and gives them the resources to do so.
The Growing Importance of Employee Empowerment
Now known as the Great Resignation, the U.S. Department of Labor reports 47.4 million people voluntarily left their jobs in 2021. Today's employees aren't just looking for good pay and great benefits. Approximately 70% of Americans now define their own sense of purpose through work. Making a positive contribution is important.
Placing employees in different roles where the company vision and daily work realities do not match is a recipe for disaster. The divide creates burnout, disengagement, and turnover—a problem costing U.S. companies an estimated $1 trillion annually.
Employee engagement and retention are linked. High levels of engagement lower turnover, foster customer loyalty, improve organizational success, and increase stockholder value. Role-based enablement checks off major boxes that create employee engagement: purpose, training, and recognition.
Want to get employees to stick around? Teach them why their work is important, empower them to succeed, and show appreciation for a job well done.
Implementing Role-Based Enablement
Role-based enablement is a key component of activating a customer experience program. The process ensures employees and leaders have the right skills, resources, and motivation to drive business financial results through CX.
Enablement involves a four-step process:
Step 1: Establish CX program governance
Establish CX program governance for decision-making, alignment, and accountability. This requires gaining top management support as initiative advocates. Employees must believe that CX is more than a "flavor of the month" project to achieve success. Ensure the program has a clear mission and vision. Ground the work in defined CX principles.
[Callout: Interested in learning more about CX governance? Visit "Governance: Building the Foundation of All Great CX Programs" for insights and how-to's.]
Step 2: Gain buy-in throughout the company
Gain buy-in throughout the company by pairing e(X)perience and (O)perational data. Share tangible examples of how a company's operations impact the customer experience and vice versa. Highlight improvement opportunities and relate them directly to the multiple roles employees hold.
Examples of Enablement

Find opportunities for enablement through a journey mapping exercise. Journey maps uncover moments of truth when customers feel frustrated or delighted.

A good place to start is the contact center. Break down the customer's journey by phase and discuss how they feel. Gather feedback from customer service representatives. Capture ways employees can improve the experience, then create resources. Connect the dots from an individual's role to the customer and how their actions affect success.

Enablement should help employees answer one key question: "How can what I do every day positively impact the customer's journey?"
Step 3: Develop a training program
Develop a training program that accounts for the unique roles each person, team, or department has on the customer experience. Create interactive training exercises relevant to the job. Make professional development an ongoing process rather than a one-time activity.
A focus on the customer should begin with employee onboarding. Embed a customer-centric, empathetic way of operating with new hires. Consider having employees shadow customer-facing positions to understand the customer's journey and potential pain points as part of the training process.
Step 4: Establish a communication process
Establish a communication process for the initiative. Consistently share quick wins and long-term successes from the c-suite to the front line. Include improvement strategies and next steps as the CX initiative evolves.
Communicate regularly across channels. Segment information by job and leverage email, chat, one-on-ones, newsletters, bulletin boards, and team meetings to share updates. Include talking points for managers so they understand why this work is important and can share details with employees in a way that increases motivation.
Approach communication as a two-way street. Gather staff feedback and incorporate the information into messaging. Good communication creates buy-in around preferred behaviors which leads to role-based enablement.
How Can Role-Based Enablement Improve Your Team and Business?
"Skimpflation" describes how today's tight labor market is forcing companies to cut back on service, hours, or quality—despite the economic risk of delivering poor customer experiences. Organizational success demands businesses do more with less. Role-based enablement minimizes the effects of skimpflation by empowering employees throughout the company to manage and improve the customer experience.
Tying CX metrics to broader business goals is part of enablement. Let's say a company measures operations managers on team widget production. On the customer side, time from order to delivery matters. The faster a customer receives their widget, the more likely they are to reorder and recommend the product.
The CX and operations teams set a metric that improves customer satisfaction scores by lowering wait times through the daily production of more widgets. Every incremental improvement is celebrated. Now the managers and teams:
Understand their connection to the customer's experience, despite having no direct consumer interactions.
Gain a broader purpose around their contributions to the company. They don't just make widgets; they make customers happy.
Feel empowered to find ways to ramp up production.
Receive recognition and performance updates to maintain their engagement.
Enablement makes "customers first" more than a saying. The words now transform how the business operates.
How Walker Can Help You Succeed
Ready to transform CX from concept into a core business initiative? Walker works with companies across the country to:
Journey map the customer experience
Establish CX governance for long-term sustainability
Connect X- and O-data for total business alignment
Identify the metrics that matter most to strategic success
Find and communicate the wins that maintain momentum
At Walker, we empower companies with customer experience support that drives decision-making. We are a Qualtrics-certified full-service Experience Management (XM) firm. Our team of experts provides end-to-end managed services and strategic consulting so you can deliver best-in-class customer experiences. We manage by our motto: everyone deserves an amazing experience. By focusing on role-based enablement, Walker ensures everyone inside your company knows how to create an amazing experience too!