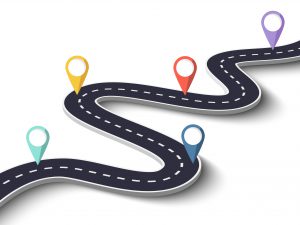 A roadmap is only beneficial if it helps you get to where you want to go. If streets are omitted or mismarked, the map impedes your ability to reach your destination. In essence, it loses its value. The same principles apply to a customer journey map. When the journey map clearly represents the full experience customers have with your company, the route to targeted, customer-focused action is easier to navigate. In this way, the map's potential to add value is significant.
When executed thoughtfully and correctly, the journey map is a powerful resource to support tactical and strategic decision-making in the areas that matter most to customers. With its end-to-end vantage point, journey mapping is highly effective in identifying moments of truth – the key "make or break" touchpoints in the customer experience that define customer perception and determine the likelihood customers will buy from you again or recommend your product/service to others.
Three outcomes from a properly executed customer journey mapping initiative:
Make improvements in the customer experience. Gaps or breakdowns in service are common in complex business environments. Handoffs from one department to another can be particularly troublesome for many B-to-B companies. By charting the entire customer experience, journey mapping helps businesses pinpoint where gaps in service exist so customer experience improvements can be directed to areas that will deliver the most impact.
Strengthen customer focus, create empathy. Numbers-laden survey data reports can't paint a clear, relatable picture of day-to-day customer experiences. Bringing internal teams together in a highly collaborative exercise to replicate and role-play the customer experience, journey mapping uncovers customer pain points, illuminating the experience in a meaningful way that naturally builds customer empathy among employees and strengthens customer focus.
Accelerate innovation. Journey maps contribute to keen awareness and understanding of the current state of the customer's experience. This understanding, which includes insights into key moments of truth, informs innovation, enabling companies to design and deliver experiences that "wow" and impress customers at the touchpoints they value most.
In the end, journey maps only go the distance when they are used as springboards for customer-focused change. Far too often, we see companies invest time and resources into developing well-executed journey maps without clear thought or intention about what happens next. Failure to activate or use journey maps to guide strategic decision-making, motivate employees and improve the customer experience ensures the exercise falls short of its primary goals. These topics and others were explored in The CX Leader Podcast series titled "When Journey Maps Don't Go the Distance: Three Detours to Avoid."
A Tip
To accelerate customer experience improvements following the development of a journey map, consider running design workshops. Effectively facilitated design workshops can lead to breakthrough solutions in 3-5 days. In a customer-driven world where time-to-value is vitally important to capture mindshare and wallet share, it's important to move customer experience innovations along quickly. As Jack Welch once said, "If the rate of change on the outside exceeds the rate of change on the inside, the end is near." So, now is the time to transform journey map insights into customer experience transformation that keeps you a step ahead of the competition.