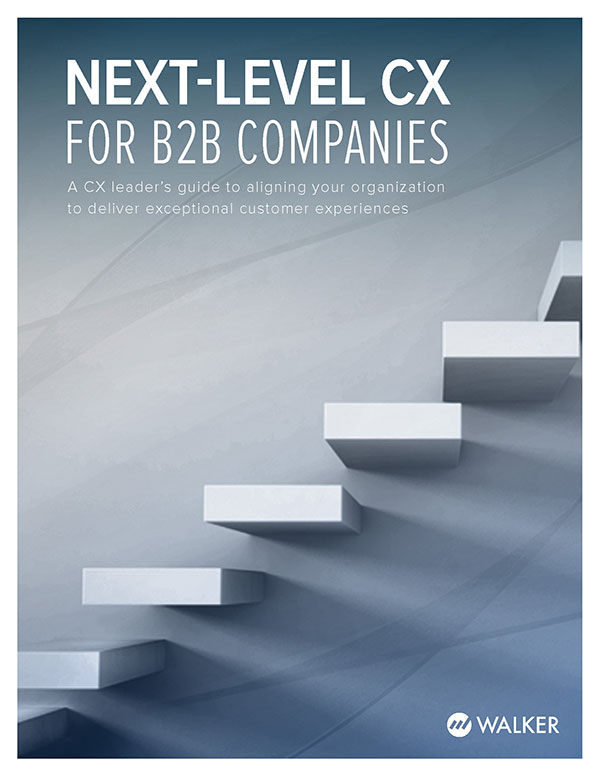 Next-Level CX for B2B Companies is focused on helping business-to-business companies rise to the next level of CX excellence – whether they are just starting out or they have an established program in place.
Complete the form on this page to download this free report.
Walker teamed up with the Qualtrics XM Institute to assess the current state of B2B CX. By leveraging existing research and established frameworks from the XM Institute, the following conclusions were clear:
CX maturity is alarmingly low. This is true for both B2B and B2C companies.
B2C companies are setting the pace, while most B2B companies are just getting started.
B2B and B2C companies have different priorities as they develop their CX programs.
Characteristics that are common to B2B companies result in disjointed experiences for customers.
B2B companies rely heavily (perhaps too heavily) on frontline employees to deliver a positive customer experience.
In response to these findings, as well as insights from Walker advisors and other CX professionals, this report provides a series of recommendations based on two primary assertions:
CX leaders need to align their CX programs. Specifically, they must establish effective CX teams, activate a customer-centric culture, and use both experience data and operational data to create more value for customers.
CX leaders need to proactively design a better experience for customers. Specifically, they must use internal and external listening to identify broken processes, use intentional methods to design customer experiences, and find the human-digital balance that B2B customers expect.
For each of the recommendations made in this report, practical advice is provided to help B2B companies, regardless of whether they are just now planning their CX journey or are already on the path to CX maturity.
Hear from one of the authors
Dr. Troy Powell, one of the contributing authors to "Next-Level CX for B2B Companies," spoke about the report in an interview on The CX Leader Podcast. Listen to the episode below:
Next-Level CX
Released: September 1, 2020
While CX excellence is a worthy goal for any company, it is our hope that this report can simply help CX leaders make steady progress to achieve the next level of CX excellence for their companies.
You can download this report for free by completing the form on this page.