Much of the CX conversation has shifted to focus on organizational culture. Sure, we have great customer listening efforts in place. Sure, we are asking the right questions of the right customers. Sure, we have people who want to do the right thing. Even with all of that, we don't really feel that our organizations have truly embraced CX or that we are truly operating as customer-centric organizations.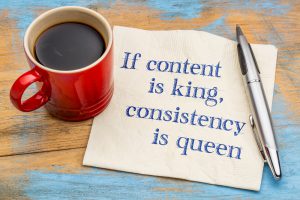 Changing Organization Culture Can Seem Impossible
I would agree with that if you are looking to change it in the next six months. To truly change your culture and achieve customer centricity, you need to be in it for the long haul (think 3+ years). That said, you can act now to start turning the tide: establish CX rituals to help educate, engage and empower associates throughout your company. These rituals are the regular activities that convey the importance of CX to your organization. As a CX Leader, you need to keep the content focused on customer experience and find ways to consistently engage your organization.
Creating Your CX Rituals
As you look for where to create CX rituals in your organization, here are a few questions to ask yourself:
Do you celebrate CX Day (or something similar) in a formal way? CX Day was established by CXPA and is the first Tuesday of October. Many organizations use this as the perfect excuse to celebrate all of the great efforts and achievement around CX in an organization. However, you don't have to use that day. Maybe for you the right day is the start of the year, when you set the plan for how you will succeed in 20XX. Maybe the right day has to do with when your company was established or a milestone event related to customers. Regardless of the day, making it an annual celebration makes it a ritual.
Is CX a consistent part of your executive communications or all-hands events? We know the importance of leadership support. To make it a CX ritual, it has to be a consistent event. Making sure executives walk the walk, CX should be a standing agenda item.
Are regular CX updates, newsletters or announcements shared with employees? As a CX leader, do you and your team have an established communication plan? Leveraging existing meetings, communications and CX websites is a great way to make sure you are holding yourself accountable for communicating CX insights, progress and action.
Does regular CX training tie desired behaviors to employee roles? Is CX a part of your new associate onboarding? Setting the stage early about each associate's role in creating and supporting a customer-centric organization is critical. Annual refreshers are also great to ensure associates know the latest in CX and how they can support creating a differentiated customer experience. You might consider using customer personas. More and more companies are using them to help educate and bring empathy around the customer experience to all employees.
Is CX integral to your employee Recognitions & Rewards? Have you considered CX Awards to recognize employees who demonstrate outstanding customer-centric behavior? Do you have ways for employees to recognize other employees? Are customer-focused behaviors part of your employee evaluations/promotions? Each of these provides an opportunity to recognize the right behaviors and promote this cultural shift.
Finally, do you highlight the importance of CX at Customer Events/Conferences? Get on the agenda. Whether it is a roundtable session, key breakout or CX booth – all help to demonstrate to your customers that you are in fact customer-centric! It not only highlights your commitment to them, but it also creates another level of accountability for you and the rest of the organization to live up to your CX mission.
As a CX professional, you don't have to do it all – but you have to do something! Pick one or two to start, and hold true to them. CX Rituals are not a one-off event or communication. They are the things that associates and customers can start to count on, anticipate and expect as key components of a customer-centric organization. You got this.