Vice President, Business Development
Responsibilities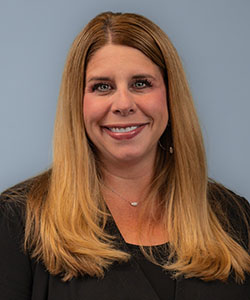 As a Vice President in Walker's Sales organization, Katie is responsible for scoping and designing professional services that best align to a company's needs. This includes technical services plus Experience Management (XM) consulting and managed services. Katie's role is to evaluate and recommend the right professional services to sustain repeatable, scalable, and successful XM programs.
Katie also works with internal delivery and consulting teams to ensure a consistent, high-quality client experience post-sale. This requires extensive cross-functional collaboration, both internally at Walker and within client organizations, that is focused on building and sustaining positive relationships across all stakeholders to increase awareness and effectiveness of customer and employee initiatives.
Experience
Katie joined Walker in 2000. Early in her career at Walker, Katie served as a program manager, running the internal operations of various B2B and consumer research projects. In 2004, Katie joined the Business Development department as a director, focusing on consulting with prospective Walker clients on the right design and approach for their customer strategies.
Katie rejoined Walker's consulting group in 2006 and advanced into the role of Vice President in 2010. Katie carries an in-depth knowledge of what information is most valuable to organizations in order to develop customer strategies that result in business impact. Through working on and designing customer experience strategies in several different industries for a variety of companies, Katie can ensure that every organization is maximizing its customer experience efforts. In particular, Katie carries a deep knowledge of B2B customer experience, supporting the development of the latest thinking and best practices in that arena.
In 2018, Katie transitioned back to a sales role, focused on aligning the right customer experience services with software packages that can enable companies to increase their customer experience effectiveness. She currently assists companies with designing the right deployment of both customer experience advisory services as well as software implementation approaches.
Achievements and Affiliations
Katie is currently a member of the Customer Experience Professionals Organization (CXPA) and holds her Certified Customer Experience Professionals (CCXP) accreditation. Katie earned her bachelor's degree from Purdue University and her MBA from Anderson University. Katie is also active in the community: She completed the United Way's Executive Women's Leadership Program and served as a steering team member of the Women United affinity group in Central Indiana.