The advantages of teamwork are widely heralded, so it's no surprise that the underlying skill that makes teamwork work, collaboration, is one of the traits that the best CX leaders share. These leaders know that every team, every employee, every system and process plays a role in determining how customers experience a company. One person, or one group, won't ever move the needle for an entire organization. But one CX Leader with a willingness and aptitude to collaborate? They can make anything happen.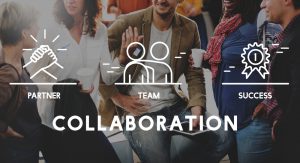 CX Leaders often find themselves faced with a challenge. On one hand, they are charged with the awesome responsibility of delivering transformative customer experience initiatives across the entire business. On the other, they themselves have little, if any, direct authority over the teams who will make the change happen.
The best leaders embrace this. They appreciate the freedom to influence change broadly. And they harness the organizational power of their peer network to activate the resources required for transformation. They are silo-breakers, with a mandate to unify cross-functional teams. They know that customers don't care about a company's reporting structure, they don't care that your processes are ultra-efficient inside your four walls, and they don't care about who owns what department or initiative. Customers care about their own experience – that they accomplished what they needed to, easily, and with at least some degree of enjoyment.
So how do these CX Leaders embody collaboration?
To make real progress on CX initiatives, the best CX leaders know they need to work together with other leaders to align on solutions and work the action plans. To do this well, the leader needs to build and maintain relationships. They must serve the needs of the business while shining a light on parts of the experience that are causing churn, creating negative chatter, and creating competitive disadvantage. This means communicating regularly and frankly, creating credibility by demonstrating an understanding of business priorities and challenges, and providing evidence where recommendations may not align with the accepted view of customer needs. It also means demonstrating a willingness to be flexible, establishing a spirit of reciprocity that will encourage more collaboration in the future.
"Teamwork begins by building trust.
And the only way to do that is to overcome our need for invulnerability."
– Patrick Lencioni
If you're in a CX leadership role and you aren't collaborating, then you are at risk of failing.
To learn from the best and set yourself up for success, make sure you're doing these five things:
Be human – connect in person, on meaningful topics that will build relationships that go beyond a particular project. Don't hide behind tech-driven communication, especially if you're new to your role or your company.
Listen first – resist the urge to 'tell' or 'teach.' Instead, seek to understand by asking questions, then truly listening to the answers, probing to uncover the areas where other leaders need support.
Build trust – do what you say you will do, and invite open and honest feedback on all topics. Similarly, as you share your ideas and plans, be receptive to new perspectives, and shift course when it will lead to a better outcome.
Engage people early – collaboration doesn't mean just informing others of your plans; it means inviting influential representatives from all relevant teams to be part of the visioning and solution design so they can more easily build support for the solutions they have invested in creating.
Connect initiatives to broader objectives – prioritize the initiatives that are going to move company goals and strategies forward, that will create value for the organization, demonstrate how CX generates results, and increase the receptivity to future ideas.
For more on the value of collaboration, check out this episode of The CX Leader Podcast.