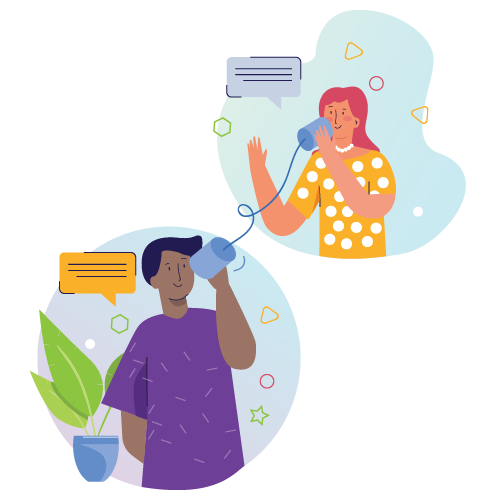 It's not just talk. Good communication is essential to executing a successful customer experience (CX) program. In fact, a comprehensive communications plan, developed well before your first survey is ever deployed, can propel your CX program from "just OK" to a level that enables you to motivate change, accelerate action, and achieve desired results.
Do you really need a CX communications plan?
It's a good question. Of course it's possible to facilitate a CX program without a proactive plan for communications. You'll get some customers to respond, and there will likely be some data or insights on which you can attempt to take action. But to get the wheels spinning at a faster and more productive pace, the answer is yes—you need a solid communications plan. Effective CX communications planning considers all your target audiences—both internal and external—and is largely responsible for building the widespread awareness needed to swiftly move your program in a results-driven direction.
If you're just starting out with CX, implementing a communications plan in tandem with the launch of your CX program is even more important. Especially on the internal side, your program may not gain enough traction without a strategy to inform team members organization-wide about your program and goals. Without a firm plan in place, it'll be harder to gain buy-in and endorsement from senior-level executives. That means middle managers are less likely to see your endeavor as a priority, and those on the frontlines in charge of carrying out the work won't have a good understanding of their role and its significance.
A well-conceived communications plan—one that outlines your commitment to customer focus, educates stakeholders, and emphasizes the "why"—creates the energy and excitement that drives engagement.
Prioritize communications, then send your survey
We've found that communication is rarely top of mind when companies execute CX programs. Once the decision to launch the initiative is made, important support tactics like communication and governance are often either put off or dismissed altogether in favor of deploying the first survey.
Companies are eager to get out there and start collecting feedback, but few realize that communication and other skills are needed to activate and accelerate the CX program. Some get hung up on assigning responsibility for communication. Who will be in charge of developing and executing the plan? Should it fall to the CX team or marketing? Maybe internal communications colleagues or a brand team? For organizations that are siloed, it can be difficult to assemble the right people and assign responsibility for communication and many of the other support skills and functions that help make CX programs successful.
In the operating framework that outlines CX planning, activation is about ensuring companies have the "appropriate skills, support, and motivation" to achieve desired results. Communication is one of these skills. There are a lot of CX professionals who are so laser focused on getting a survey out in the field that they disregard asking and answering vital questions about what happens next:
What are we going to do with the data?
How are we going to communicate what we learned to our organization and our customers?
How will communicating the results help us drive change and make meaningful improvements?
Getting started
So how do you go about planning the communication around your CX program? Here are some aspects to consider:
Define your target audiences
The first step in developing a CX communications plan is to identify and define your target audiences. While you'll probably do some segmenting, the two primary audiences will be internal and external.
Internal – Breaking it down by seniority is an easy way to think about internal audiences:
Your CEO and the C-suite
Directors and middle managers
Frontline staff and individual contributors, including those who may not interface directly with customers
External – The most obvious external audience is of course, your customers. But depending on the target of your CX initiative, you may want to drill it down further by identifying subsets of customers, such as:
Key executives of top accounts
Consumers who buy your products
Distributors
Consider the messaging
Another important part of your communication plan is messaging. Considering each audience you've identified, start asking these questions:
What's the story we're trying to tell?
What's the best way to tell it?
What does this audience care about and what do they want to know?
What vehicles do we already have to share our message?
What vehicles do we need to create to get the word out and tell our story?
For internal audiences, it's a good idea to align your CX communications to the company's overall strategy and find ways to connect it to your culture and branding. When communicating externally, the focus of your messaging should be to build awareness among customers that you're committed to customer experience. Look for ways to align the message to your brand promise and customer expectations. The goal with CX customer communications is to motivate customers to engage beyond simply responding to requests for feedback—and to reinforce that when they do respond, you'll be listening for ways to improve their experience.
Get an early start
As stated previously, develop your CX communications plan alongside your CX program. When you form your CX steering team, be sure you designate a person or organizational team to be responsible for communications planning and execution. Ensure there's ample time to build awareness and understanding both internally and externally before you start collecting feedback.
Maintain a wide-angle view
We find that CX teams often focus heavily on the tactical features and wording of the survey invitation, reminder notices, and thank you responses. While these are certainly important, focusing solely on tactics means you're viewing CX communications too narrowly. Unless you tell your customers why you're asking for their feedback and what it will mean for them, it won't matter how good your survey looks or how well it reads. You'll face challenges getting customers to respond.
Take time to craft your message—and brand it
The messaging and how you deliver it can make or break your CX program. For example, for internal audiences, consider the power and motivation in making the message more about the strategy of being customer focused and less about a new survey you're sending to customers. Develop a meaningful tagline that team members can rally around. When customers are your audience, devise messages that not only communicate your brand promise but also explain the ways you're going to live up to it.
In the same way you make the commitment to develop a CX communications plan, you'll want to revisit it periodically. And just like your CX program, communicating with your key stakeholders will never be one and done. There will always be room to re-establish your audience segments, reconsider the timing and vehicles, and refresh the messaging. In your efforts to motivate change, accelerate action, and achieve desired results, the time you spend on effective communication is time well spent.