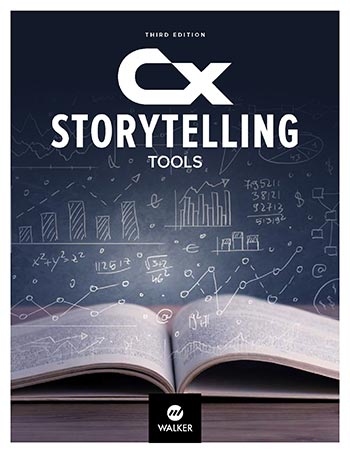 Is storytelling listed in your job description? Probably not. And yet, it is a valuable skill to develop as CX professionals are often called upon to deliver presentations that tell the stories of their customers. This workbook was developed to provide a practical process and useful tools to help CX professionals deliver captivating presentations that drive customer-focused action.
The CX Storytelling workbook features the following 10 exercises to help develop, deliver, and strengthen great
presentations.
AUDIENCE: Develop a profile of your attendees
CONTEXT: Determine the type of presentation to prepare
TRANSFORMATIONS: Consider the thoughts and actions you intend to influence
SUCCESS: Identify criteria for success
MESSAGE: Determine potential messages to include
PRIORITIES: Prioritize the messages you will deliver
ORDER: Determine the most effective sequence
COMPONENTS: Identify key details to be effective
DELIVERY: Integrate methods to keep your audience engaged
STRENGTHEN: Reinforce your messages with effective follow up
From The CX Leader Podcast:
Listen as host Steve Walker and Pat Gibbons discuss how storytelling can be a powerful addition to the customer experience professional's toolbox.
How a Box of Invoices Tells a Story
Released: April 17, 2018
From the Blog: CX Storytelling Series
A blog series by Pat Gibbons detailing strategies and best-practice in honing your storytelling skills.