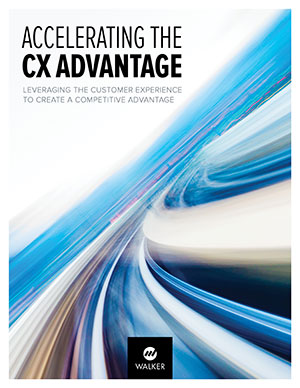 Featured Report:


Accelerating The CX Advantage
LEVERAGING THE CUSTOMER EXPERIENCE TO CREATE A COMPETITIVE ADVANTAGE
Creating a competitive advantage from the customer experience is a journey, not a destination. It's a process involving an organizational commitment to create an intimate and deep understanding of customers and to use this understanding to guide strategic decisions at all levels of the organization.
When embarking on any journey, it's important to start with a clear understanding of where things are today, the results you'd like to accomplish in the future and the route that will produce the best results, the fastest. Walker's Accelerate CX program includes a tool to help companies assess where they are today – pinpointing areas needing improvement – and access to the premier customer experience consultants who can share tools, techniques and best practices to help companies accelerate CX.
It's all about helping companies take CX to the next level. In this report, we tell you how.